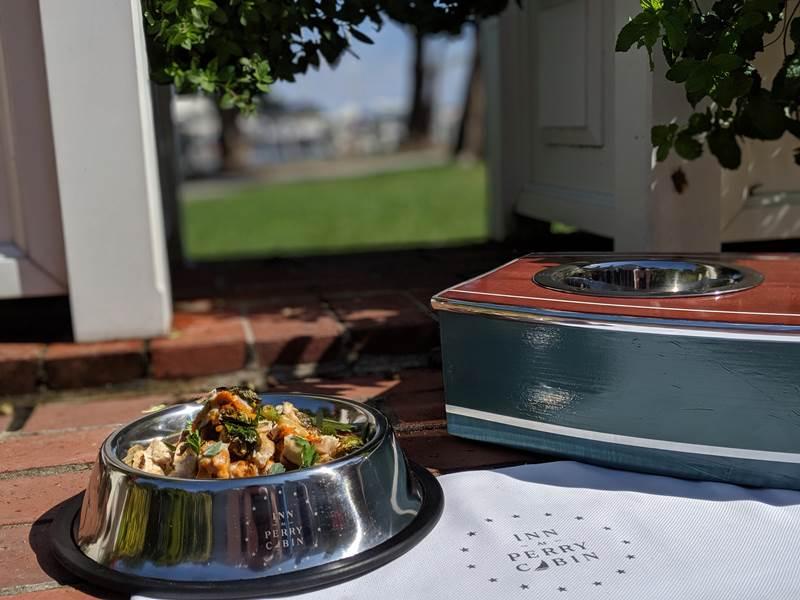 After I finished the adoption paperwork, I tried to get him into my car, he bolted off. He was much faster then, he actually ran about quarter mile down the road and jumped inside a lady's trunk who was loading it with groceries. She said to me "oh, looks like I have a new friend" I thanked her for being so kind, I picked Bronson up, got him on a proper leash and escorted him back to my car where he found a loving home. Ever since that lucky day he has been my companion. He has been through a lot. He's gone missing twice, these are quite the stories and to be told another day, made friends with a skunk, moved back and forth across the country a couple times, unconditionally following me around till we finally found our home here at the Inn at Perry Cabin.
My old puppy has had some mobility issues lately and I was trying to see what I could feed Bronson to keep him as spry as possible. I encountered this article on how great herbs are for dogs and I knew that our garden would inspire me to come up with some delectable dishes for our furry friends. The kitchen crew was energized by our findings, went to work and came up with this amazing menu. We are really proud of it and can't wait to share it with you.
So here today, Bronson and my love of dogs has inspired me to launch this new canine friendly menu. This is something I have always wanted to do. It is full of options and includes wild salmon, crab, free range locally raised chicken, grain free meals and even dessert!
Bring on all the four-legged friends who love food as much as I do!
Happy Cooking.
Gregory James
Chopped Sirloin Steak
Delectable wilted spinach with fresh garden peas, fragrant white jasmine rice, and housemade, all-natural beef gravy
Pan roasted salmon
Warm, oven-roasted salmon with black kale, toasted apples, and nutritious farro
Grilled Chicken
Oven baked brussels sprouts, diced butternut squash, white rice mixed in with homemade chicken gravy
Wild Maryland Rock Fish
Wild carrots, cooked with fresh peas, crisp spinach, and tenderly mixed with white rice
York Hazard Farms Omelet
Hearty ham, fresh spinach, and delicious sausage gravy
Mahi Mahi
Sweet potato cooked with bright green peas and sizzling bacon
Beef Tenderloin Tips
Oven-roasted fresh potatoes, sliced carrots and peas, with homemade beef gravy
Maryland Crab Cake
Fresh spinach, flavorful cucumber, sweet apple, and nutritional farro
Enhancements:
Bag of House-Made Treats
Banana Peanut Butter Frozen Yogurt